---
Chcete mať takýto autogram Charmed???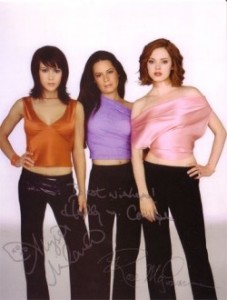 Stačí vám vaša angličtina, lebo to posielate do Californie, alebo tam niekam blízko.
Mail treba posielať na  charmed@studiofanmail.com   .
Mail by mal obsahovať pochvalné slová na seriál, čiže niečo ako: I like Charmed so much. It's one of my favourites serials ever.
Potom by ste mohli uviesť,že chcete aby vám poslali ich autogram:
Please,would you send me autogram (alebo môžete napísať photograph) with signed Rose McGowan,Allysa Milano and Holly Marie Combs?Thanks.
Nezabudnite tam dať aj adresu a pošlete.
Mali by vám poslať spätný mail, že vám ho pošlú.  
TO JE ON:
Thank you for writing and for your
support of Charmed.

This address is for photo requests ONLY.
If you were requesting a free photo
and did not include your postal mailing
address, please e-mail us again and
include the address. If you already did,
please disregard this automatically
generated message. Allow at least 4-6 weeks
for your request to be processed. Pictures
will be sent by postal mail, not e-mail.
Due to high volumes of mail being handled,
we cannot reply personally to your questions
or comments.

One autograph request per e-mail, please.
Any message with more than one recipient in
the "to:" line, or that has undisclosed
recipients, or that uses "cc:" (carbon-copy)
or "bcc:" (blind carbon-copy) may be filtered
and automatically rejected.

We reserve the right to limit the number
of photos which will be sent to any
individual requestor. These complimentary
photos are not approved for auction or resale.
Potom treba len čakať.... A tešiť sa z autogramu:-)

Komentáře
Přehled komentářů